Fragrances are essential to our well-being. Not only does smelling good endear you to people, you also feel confident. This is especially true when you use fragrances based on different types of perfume oil.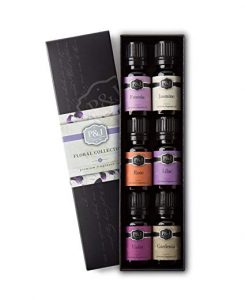 The scents used in perfume oils are usually got by extraction. Plants are steamed and when the scents rise up in the steam, they are captured and used in the oils.
Another method is to add the plant material to the solvent using low heating. The solvents absorb the scents from the plants.  In citrus products, the oil is usually expressed.
Why Perfume Oil Is Your Best Choice
It Lasts Long
Perfume oil is more concentrated than the standard perfume and so gives more fragrance for a longer period. And it doesn't get cloying or overpowering.
Oil has a way of staying longer on the skin because the skin will absorb it first. Its sticky nature will then release the scent gradually, making it last all day.
Standard perfume works better on fabrics but doesn't last as long.
Click to Buy on Amazon
It Does Not Irritate
Perfumes contain chemicals that are harsh on the skin and can cause irritation. People with sensitivity to them usually prefer to do without them than suffer from rashes or other allergic reactions.
Perfume oils, however, are good moisturizers. Because they are oil-based, they have the advantage of nourishing the skin as well. This makes it ideal for all skin types.
Value for Money
Standard perfume often feels like it is being wasted because you are taught to spray into the air and then walk into the mist. Perfume oil, on the other hand, is fully used up when rubbed on, hence leading to no loss at all.
You Have Absolute Control
Most perfume oils come with roller-balls, which can be applied in pulse areas around the body. It's up to you how much of it you apply. Depending on how much scent you desire, a little or a lot would work.
Most Common Perfume Oils (With the Best Fragrances)
Most single smells aren't very attractive. Therefore several scents go through a process with a combination of perfume oils to create a unique variant.
Perfume oils can be extracted from about 5,000 different varieties of plants. The ones we will discuss are the most common ones (with the best fragrances). They can be easily purchased over the counter.
Bergamot Perfume Oil
This is a type of orange specie that adds a zest to perfumes through its tangy oil gotten from the unripe plant.
Cold pressed, bergamot perfume oil is found on the inside rind of the orange fruit. It adds sweetness to your fragrance by giving it a floral hint.
First used as far back 1714, it was a major component introduced by Farina Archive. It is a clear greenish liquid consisting of a complex mix of asganic substances like esters, alcohols, terpenes and aldehydes.
One disadvantage you may find in using bergamot oil is that it is easy to buy the adulterated type.
Click to Buy on Amazon
Bay Leaf Perfume Oil 
Bay leaf oil is often used for masculine scents because of its spicy cologne-like flavor. The leaf grows on trees found in the Indies forest. And it is popular because of its slightly bitter intone, giving it a mature, subtle scent.
The evergreen bay shrub is found in the Mediterranean. It's usually very mild when fresh, but gains flavor when dried. The dried leaves give a nice plant-like scent to perfumes and are popular for their ability to ward off insects.
Certain feminine scents (such as chypres) are accented with it because it adds herbal and spicy touch.
Bay leaf oil has several benefits aside from its scent. For instance, its aromatherapy properties include analgesic, antibacterial, anti-rheumatic and antioxidant. Its long history as a warming oil brings relief for arthritic discomfort. Another benefit of this oil is its calming effect, which gives a lift after a stressful day.
Use bay leaf oil moderately, because its strong fragrance can easily overshadow other scents.
Cedarwood Perfume Oil
Popular with women perfumes as well as men's, cedar gives a mystical, exotic and woodsy smell.  This fragrance is common in Northern America, where cedar trees are found.
Apart from the great scent, its oil acts as an anti-inflammatory, anti-fungal and astringent agent.
Click to Buy on Amazon
Benefits of Cedarwood Oil
Using cedarwood fragrance oil has the following benefits:
Works against Eczema
Eczema manifests as itchy, dry and sometimes red skin that cracks when it's scratched. Some have found that cedarwood oil soothes that itchy and dry feel to the skin.
The essential oil can be routinely added daily to improve skin health. Start by adding it to your lotion and soap. You may need to also apply it on areas that are already becoming itchy and appear to have been infected.
A Natural Antiseptic
It acts as a natural antiseptic. It also helps prevent growth of microorganisms which can affect the skin negatively.
Great Skin Deodorizer
The woody scent of cedarwood creates a pleasant and reassuring atmosphere, giving a long lasting therapeutic effect and a warm feeling to you.
Relieves Stress
Cedarwood perfume oil also enhances your physical and psychological well-being with its calming effect.
Amaryllis Perfume Oil
This plant looks a lot like lilies, with velvety and vibrant flowers. Beautiful to the sight, what's nicest about the amaryllis flower is its delicate, sweet scent.
This makes it ideal for anyone sensitive to perfumes or averse to stronger smelling oils. Besides, bringing out the essence of amaryllis usually means mixing it with rose oils and other blends such as neroli.
Over several years, perfumers have developed high breeds of the amaryllis to add scent to its subtle scent and make it more engaging.
Its growing popularity as the preferred perfume oil has made perfumers such as Dolce & Gabbana to include it as the secret scent to their top fragrances.
Clove Perfume Oil
This scent is common all over the world for its ability to add a spicy but sweet touch to fragrances. From the Mrytaceae family, they are picked unopened while the flowers are pink.
Feminine in nature, oils extracted from this herb give many perfumes a nice edge that adds to their popularity.
Lavender Perfume Oil
Lavender has a delicious yet irresistible scent that has a way of calming the senses. Its essence permeates the room, drawing you in.
This is why it is so popular for aromatherapy. It induces relaxation and also helps to manage insomnia. Lavender is also great as an antiseptic, antimicrobial and anti-inflammatory.
Because of its popularity, adulterated lavender oil may be used to make perfumes, but spotting the original is easy. All you have to do is check the label and see if it's written in its scientific name. If it is, then it's the original.
Jasmine Perfume Oil
Jasmine is another very popular oil with a strong uplifting fragrance. Its strong scent and ability to soften and smoothen the skin makes it popular as a perfume and a moisturizing oil.
Jasmine scents are not only popular; they are usually quite expensive also. Here is why: found around northern India and China, it originates from the Persian word 'Yasmin' and is called the 'Queen of the Night' since it only releases its captivating scent at night.
These delicate flowers are picked only at night and processed immediately to retain their freshness. To make only 1 kilogram of perfume oil, over 7 million flowers are used.
Click to Buy on Amazon
Sage Oil
This oil is distilled from the popular mint family. Its mild and sweet aroma gives balance to other harsh scents, making your perfume oil more desirable.
Sage perfume oil also has several benefits aside from its distinct aroma. It's an anti-fungal antibacterial, antispasmodic and anti-inflammatory agent.
Sage, also known as Salvia officinal, is very popular with cosmetics industries and particularly for skin products. Countless beauty products include the essential oil of sage or perfume oil as a treatment product.
The extraction process of the oil in sage is by distillation of the leaves and constitutes mainly aesculetin, alpha- terpineol, alpha- thujone, beta copaene, linalool, limonene and other ingredients key to nurturing.
Lemon Oil
Lemon oil is gotten from a specific lemon tree to add the last zesty touch to many perfume types. It is made from lemon rinds and extracted from 'sacs' under the peel.
Lemon is well known for its detoxifying properties. It's useful for rejuvenating and purifying the skin and also as an insect repellent. It is also great for aromatherapy.
Lemon perfume oil can be used for any of the above, as well as giving you a long-lasting fresh feeling.
When choosing your lemon perfume oil, look out for the one that is steam-distilled and not cold-pressed. This is because the steam-distilled type has a reduced possibility that your skin will have reactions after using it and being exposed to the sun.
Also go for organic lemon perfume oils. These ones have less chemicals, though you may find a few chemicals from the growth process. But definitely none from extracting the oil.
Patchouli Oil
This oil comes from the patchouli leaf which has an exotic scent.  It is very popular among those who love the mystic touch of Oriental scents.
Check out these interesting skin care product reviews/articles:
How Long Does Exilis Skin Tightening Last – Comprehensive Answer
How to Make Your Skin Look Smooth – Comprehensive Answer
What Is the Best Moisturizer for Sensitive Skin – Extensive Answer
How to Remove Body Wax from Skin – Detailed Answer
What Is the Best Body Wash for Dry Skin – Extensive Answer
What Deodorant Is Good for Sensitive Skin – Clear Answer
Other Oriental Scents
Galbanun
The gummy fluid that comes from trees contain this oil. The scent is usually mild and woody, like the smell on the dollar note.
Gardenia
With its heavy, rich scent, oils extracted from gardenia can be too strong to use alone. But mixed with other oils, they produce a pleasant aroma when rubbed on the skin.
Rose
Among the most popular of scents, it's also among the rarest because it takes about 4,200 plus petals to make only a pound of oil. Roses come in different variants, each with its unique smell and can be used purely on its own without mixing with other fragrances.
Ginger
Very popular with lovers of the Orient, oil from ginger gives an aroma that's spicy and warm.
Geranium
Common as a preferred scent, geranium oil is extracted from leaves and stems and is pleasant enough to use without mixing with other oils.
Citronella
This oil comes from grass that grows in Sri Lanka and has a sweet, woody scent. When it is added to other fragrances, it gives your oil a fresh dew aroma that leaves you feeling refreshed all day.
Hyacinth
This oil has a strong, rich and sweet aroma, and is only gotten when the flower first bursts from the plant. Its really strong smell means just a dash will go a long way to keep you smelling good all day.
Make Your Own Perfume Oil
Finally, you can make your own great perfume oil from the comfort of your home.
Simply follow the steps below:
i. Decide on which oil base you'd like to use. We would recommend jojoba oil.
ii. Melt your oil in a pan with some water.
iii. Once this is fully melted, add your choice of essential oil. Remember that you can mix more than one oil type.
iv. Pour your mixture out into jars and let it cool.
v. Feel free to rub lavishly on your skin. Relax and enjoy the therapeutic effect perfume oils have on the skin.