Tanning is a common trend no matter the time of the year and you do not want to be left out. Maintaining your skin healthy glow can be a potentially dangerous endeavor over time if you don't take proper precautions. The key to a youthful, healthy and lasting looking tan is to use suntan oil.
Extended exposure to the suns harmful ultraviolet light can cause skin cancer cells to develop, leading to severe medical complications. That is not all; prolonged exposure to UV rays both natural and artificial, can cause them to age prematurely. Suntan oil is an oil that you rub into your skin to protect it from the sun's harmful UV rays.
You can maintain that tanned glow and keep safe despite the dangers associated with the sun rays by using a suntan oil. Tanning oil works by attracting the ultraviolet rays of the sun onto the skin and accelerate the process by intensifying the rays. As the UV rays penetrate the skin, they accelerate the melanocytes' ability to produce melanin.
The right suntan oil can go a long way when it comes to making the most of your time out in the sun. Whether you just like tanning or just looking to get a little color on vacation, a suntan oil is what you need. Take note: suntan oils are for use on the skin only.
It is important that you follow all directions on the product package. If you are uncertain about any of the information, consult your doctor or pharmacist.
You are about to learn all about suntan oil.
Benefits of Using Suntan oil
Are you still in doubt about using suntan oil? Check out these amazing benefits below:
1. Suntan oil keeps the skin hydrated while locking in moisture
Prolonged subjection to the sun can dehydrate and dry out your skin. Suntan oil is able to hydrate the skin faster and is gentle on even sensitive skin. They will not only moisturize the skin, but also improve its feel and look.
Suntan oil provides skin moisture while beautifully helping in tanning. The first step to getting well-tanned skin is having a healthy one. Moisture in the skin aids the tanning process while dry skin does not fare so well. Therefore, it is necessary to keep your skin well-hydrated at all times.
2. Suntan oil help keep the skin stay flexible and pliable
Suntan oils with moisturizers are especially good for people with dry skin, as they create a protective layer. These ingredients include natural extracts, butters, aromatic oils, riboflavin. These ingredients help the skin maintain its flexibility. 
3. They help replenish lost vital nutrients
Given exposure to the sun, vital nutrients are lost by your skin. These comprise essential amino acids and minerals that your skin needs. Some suntan oils are able to supply your body with vital nutrients.
Factors to Consider when Selecting Suntan Oil
Suntan oil comes in many packaging, fragrances and brand names with each claiming to be the best for you. Are you confused as to which suntan oil you should use to give yourself a perfect tan? Have no worries because this suntan oil buying guide is written to help you choose the idea one for you.
1.  Ingredients
The ingredients in a suntan oil enable it accelerate the tanning process. Active ingredients in suntan oil work either by absorbing the sun radiation, preventing it from reaching the deeper layers of the skin. That is not all; the ingredients in a suntan oil reflect the sun harmful radiation.
One common ingredient used in a tanning oil is dihydroxyacetone (DHA). DHA is a colorless natural sugar that chemically reacts with the natural amino acids on the outer layer of your skin. This reaction produces a bronzing color effect.
That is not all; look for ingredients like aloe and sodium PCA as they bind water to the skin. The more natural the ingredients in a suntan oil, the better the oil will likely blend into the skin. Suntan oil made with natural oils is less likely to irritate the skin or cause breakouts.
Avoid the following ingredients: petrochemicals like mineral oil, preservatives like BHT + parabens, fragrance or Parfum, vitamin A acetate, edible oils.
2.   Your Skin Type
Your skin type is an important factor to put into consideration before selecting a suntan oil. Knowing your skin type will help you determine the ideal product for you. Your skin type will help you determine how long you can safely be exposed to the suns UV rays.
No matter what your individual skin type is, there is suntan oil out there for you. Some skin type quickly burns, peels, and some are very sensitive; all this should be put into consideration. Depending on your skin type, it is ideal to do some research on the various suntan oils available before buying.  
Keep in mind that one size does not fit it all when it comes to using suntan oil on the skin. Take note: your natural skin color can affect the tanning process.
3.   Brands
Brands are key to the value you would get from using suntan oil. Ensure that you take into consideration the brand of the particular suntan oil you want to purchase. Good brands of suntan oil always have the necessary and required quality ingredients which are safe for the skin.
4.    Budget
You should have an ideal of the amount you are willing to spend on suntan oil. There are good products of suntan oil at affordable prices. Price should not be a barrier to your choice of suntan oil; rather focus on the ingredients.
Tips to Get the Most from your Shopping Experience for Suntan Oil
One of the most important components of a great tan is to use the right suntan oil. The wrong suntan oil for your skin can lead to poor results, burn or flaky skin. When it comes to finding the ideal suntan oil, there are a few things to look for while shopping.
This suntan oil buying guide has some tips to help you get a wonderful shopping experience.
1.    Look for Moisturizing Ingredients
Moisturizers are often included as active ingredients in most suntan oil. Why does this matter? The process of tanning can quickly dehydrate the skin which is not good for your skin.
The addition of moisturizing ingredients, such as vitamin E and glycerin helps protect the skin by keeping moisture in. That is not all; moisturizing ingredients draw moisture from the air to add moisture to the skin.
An effective suntan oil has to contain agents like glycerine, sodium isethionate and sodium PCA to boost its moisturizing capability.
2.    Check for SPF
Many people do not realize that suntan oils can come with SPF and some don't contain SPF. Always look out for suntan oil that has some SPF in it, to help block out the suns harmful rays. Make sure to check the container before purchasing to find if suntan oil has SPF level that fits your needs.
3.    Read the list of ingredients
If you use more of a suntan oil that contains ingredients that are natural, you would do yourself a world of good. Your skin would be healthier and thank you for it. This is because such ingredients give needed nutrients to the skin.
Look out for suntan oil that contains coconut oil, riboflavin, hemp and so on. Years from now, you will be thankful for them.
That is not all; check the ingredients lists for vitamin A and E. Why does this matter? They are antioxidants that help in skin rejuvenation and offers protection against premature skin aging.
Extract from green tea is good at reducing the effects from sunburn. Also, as radiation from the sun releases free radicals, it acts as a strong antioxidant to battle them.
4.    Put Quality and Value First 
Choose suntan oil for the benefits that it can give you and not on the price. Don't look for the cheapest suntan oil because in the end it would give you very poor results.
5.    Research Helps
Search the internet for opinions and reviews on various suntan oil products. Product reviews on the internet give you a broad segment opinion from multiple people to form an informed opinion. Conduct a research to check if people have recommended your choice of suntan oil.
You can get reviews from blogs, magazines and shopping websites. Check out the cons and pros of the brand, and then make your choice if it something suitable for you. This will prevent you from choosing a bad suntan oil product.
6.    Check the Label
Different suntan oil are made of varying substances, and may cause allergies to those who have more sensitive skin. Read the labels of the suntan oil before purchasing so you know whether it is the right kind for you.
7.    Avoid suntan oil with Fragrance Content
Some suntan oil contains fragrances in them to give an appealing aroma, avoid them. Suntan oil with fragrances can make your skin dry, which would damage your skin.
How to get the Most from Using Suntan oil
Finding the right suntan oil is only one step in getting the perfect tan. There are other ways to get the most out of your suntan oil. Ready to get the most out of using a suntan oil? Check out these tips below and take advantage of them to get the best benefits while using a suntan oil.
Ultraviolet radiation has the ability to damage skin cells, which can mutate the cell's structure. These mutations can create a cancerous cell, which can lead to skin cancer. Although some suntan oil use SPF protection, most still do not provide enough barrier against the effects of ultraviolet radiation.
Take note: a little suntan oil provides more than an SPF 4 level of protection, so use a sunscreen. With sunscreens, the debilitating effects of prolonged exposure to sun rays are reduced. Skin cancer and even signs of aging prematurely like lines on the skin are taken care of.
You can get sunscreen in any formula you want. You have the options of gel, spray, cream, stick and even lotion. Take your pick.
This is how it works: twenty to thirty minutes before going out in the sun, apply your sunscreen. Be sure to cover every part of your body that would be exposed. Depending on the time you intend to spend outdoors, reapply it every ninety minutes.
Warning: sunscreens cannot protect against all of the sun harmful radiation. Wearing sunscreen does not mean that you can stay out longer in the sun.
Before lathering up your skin with protection and suntan oil, it is best that you are clean. Exfoliating your skin using a body scrub at least once a week will also help you get rid of dead skin cells. The morning before you use a suntan oil, exfoliate your skin.
Use a scrubber such as pumice stone or try using an exfoliating body scrub or wash. Getting rid of excess dead skin cells can allow the skin to look its best and stay moisturized.
Take note: failing to remove dead skin cells before tanning can cause a tan to look patchy or uneven.
Hydrating and moisturizing the skin is an essential part of tanning. Moisturizers will keep the skin extra moisturized and youthful looking and help the tan last even longer.
The lesser time you will be exposed beneath the sun, the better a suntan oil will work. A lesser amount of exposure to the sun gives less probability of skin damage from the sun. Do not stay under the sun too long, so as to tan yourself.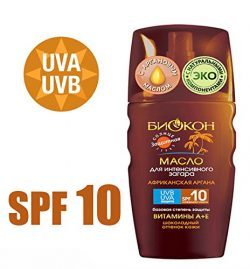 Overexposing your skin to the sun can damage your skin, it is better to tan yourself gradually.
It is important to shave or wax to remove unwanted hair before heading outdoors. The part of your body to shave includes hair on the legs, underarms and around the bikini area. Take note: It is important to shave and wax before a tanning session 24 hours or more before you head outdoors.
Why does this matter? The skin can be irritated right after hair removal and this can cause extensive sunlight exposure to irritate these sensitive areas. That is not all; suntan oils can sting and irritate the skin right after shaving, making oil application process very uncomfortable.