What is Exilis skin tightening?
Exilis skin tightening is a non-invasive and non-surgical procedure that employs radiofrequency to tighten skin, contour the body and remove extra fat that form in different areas. It is not painful, can be done in the doctor's office and requires no time for recovery.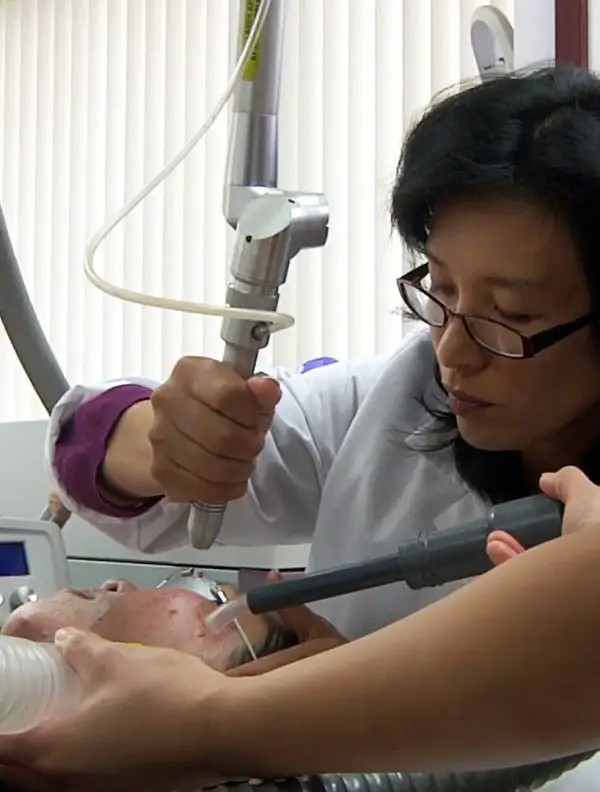 Exilis is a handheld device, monopolar in nature, that releases specialized but completely safe electric energy to the body, to heat it. At a temperature of about 43 degrees Celsius, collagen structurally changes. So collagen is the main focus of this procedure.
The effect of this change is that the texture of the skin greatly improves due to the growth of new collagen over the course of weeks or months after treatment. You will also notice tighter skin that is free of lines where there was sagging skin before, as well as a noticeable body contouring.
Continuing with this non-invasive treatment over time will give you more noticeable results than doing it just once or twice. If body contouring is your main aim, for example, not waiting until the results wear off before continuing sessions may be best. The new contours will stand a better chance of going from barely there to being obvious with constant touch-ups.
Before you commence any treatment, be it cosmetic surgery or not, a medical consultation is required. You will need to be advised on what is involved so that you can decide if it is what you want.
How Many of these Treatments Do Doctors Recommend?
Doctors recommend 5 to 6 treatment sessions and each session is to be done 2 to 4 weeks prior to the next one, or as your body can take.
But this is dependent on what you are aiming for. You could want skin tightening only or you could be looking for fat reduction. You could also be looking to have both done at the same time.
Your medical professional will advise you on how to space your treatment to suit your needs. However, these sessions, when done properly, will last for a while, keeping your skin looking lush and young.
How Long Does an Exilis Treatment Take?
Typically, a single treatment on a body area lasts between twenty to fifty minutes. Depending on the areas you want to be treated, a session could take up to two hours or more.

You will spend this time laying on a comfortable and sometimes heated bed. And the constant running of the device over the treatment area will leave no marks nor will it be irritating.
How Quickly Will You See Results?
You will see results around 4 to 5 months if you go in for skin tightening or body contouring. And if you go in for fat reduction, you will see the first results in 3 months. It is very important to note here that these results vary from one person to another.
A process known as neocollagenesis, which simply means the growth of new collagen, takes weeks and even months to happen so collagen does not regrow overnight. If you are going to use Exilis treatment as a means to tighten your skin, you have to bear the time factor in mind.
Who Can Undergo Exilis Treatment and What Body Areas Can It Be Done?
Any healthy adult is a candidate for Exilis. If your skin's elasticity is superb, you stand a better chance of Exilis treatment working faster and better for you. But if you're pregnant or nursing a baby, it goes without saying that this treatment is not for you.

The areas of the body where Exilis treatment can be used are broad. Loose skin on the neck, jaw, face, thighs, stomach and knees can be tightened by the treatment. The treatment works on the chest, too but only for men.
Additionally, if you are looking for body contouring with this treatment, you may want to know that it takes several treatments to achieve it, and the results may not be so overt. You may go away with only mild contouring.
Check out these interesting skin care product reviews/articles:
Clean and Clear® Acne Triple Clear Exfoliating Facial Scrub – Detailed Review
AcneFree Acne Cleanser – In-depth Review
Clean & Clear Blackhead Eraser Facial Scrub – Extensive Review
Bioré Charcoal Acne Scrub – Honest Review
Humane Acne Treatment Face and Body Wash – Honest Review
Neutrogena Naturals Purifying Daily Facial Cleanser – Detailed Review
How Long Does Exilis Skin Tightening Last?
The results from Exilis skin tightening treatment last between 6 months and 2 years. But this is dependent on your skin texture, elasticity and your general lifestyle.
Use the right skincare products to enhance the look of your skin after this treatment. The right serums, lotions and moisturizers will go a long way in helping you maintain the glow of new skin.
Bear in mind, though, that Exilis treatment could totally vary, especially if you use the Exilis elite. You may need to have touch-ups within this time if you notice the results are wearing off or are not the way they should be. Always remember that everyone is different so may handle this treatment in different ways.
Buy this TruSkin Vitamin C Serum for Face on Amazon
Are There Side Effects from Exilis Skin Tightening Treatment?
There are side effects similar to breaking out in hives or a slight redness on the skin. This redness vanishes soon enough, leaving no scars or marks. But this depends on your skin.
Usually, fat reduction and other skin tightening treatments tend to have some side effects and this is no different. But they are truly rare and, if they do occur, very mild.
The procedure has approval from the FDA so you have nothing to worry about.
Can Exilis Treatment Work Along with Other Skin Tightening Treatments?
Exilis skin tightening treatment can work alongside other skin tightening treatments. You can combine it with Ultatherapy or Protégé Elite and you will still get great results without any harm on you. You can also use it after undergoing liposuction to encourage further tightening of the skin.
But always go for a consultation with your doctor or the nearest Exilis treatment specialist around you. This is to make sure your body can handle the combined treatments without reacting negatively. As safe as this may be, it is still important you know what you are getting into medically.
Video: Skin Tightening Treatments Apart from Exilis
Watch as this seasoned dermatologist explains other treatments there are for skin tightening, that require no surgery…
Bottom Line – How Long Does Exilis Skin Tightening Last?
Exilis skin tightening treatment is one of the best non-surgical skin tightening, fat reduction and body contouring treatments available. It works well, be it on the body or face. But it requires patience to see results. And after each completed treatment, living healthy and exercising help the results last longer.
How Long Does Exilis Skin Tightening Last – Frequently Asked Questions
Which Is Better: Exilis or CoolSculpting?
Exilis is better than CoolSculpting. Both treatments do away with fat cells; Exilis shrinks them while CoolSculpting destroys them. However, Exilis also tightens skin that sags after the fat cells are shrunk but CoolScupting does not handle saggy skin.
Because it kills fat cells, CoolSculpting gives the impression of being better than Exilis. But people who choose it tend to forget about the loose skin that comes with the loss of body fat.
As for the downtime needed to recover for both treatments, none is necessary. You don't have to spend some time in bed or at home. In fact, you can undergo a session of either treatment and be back to normal life in a few hours.
Does Exilis Elite Really Work?
Exilis Elite really works. It is mainly used to reduce fat in the body. This treatment works maximally when it is channelled to a particular area of the body.
And because it is not as dramatic as having surgery, it works best on people who exercise regularly and eat healthily yet have stubborn fat that nothing else can burn.
It will take a few months before the first results show. But due to the fact it is not sudden, you don't have to explain the quick loss of fat. It will be just as if you lost the fat naturally.
Is Exilis Elite Safe?
Exilis Elite is safe. It is a non-surgical skin tightening, skin rejuvenation and fat reducing procedure approved by the FDA. So it is perfectly safe and effective for anyone who is looking to improve the appearance of the skin, contour the body or reduce fat in the body.
However, as with every medical procedure, you will have to get professional medical advice before you go for this treatment. This is especially true if you have had problems with your health in the past.
Can Radiofrequency Damage Your Skin?
Radiofrequency can damage your skin if the procedure is not correctly done and if you have darker skin. Your skin gets burned and you will have redness, temporary swelling and pain. The chances of the procedure not being correctly done are higher if the doctor is not approved by the American Board of Cosmetic Surgery.
But if the procedure is carried out by a cosmetic surgeon with certification from the Board or if your skin isn't so dark, you stand a better chance of not having damaged skin.
What Is BTL Exilis Ultra?
BTL Exilis Ultra is a device used in Exilis cosmetic procedure that successfully combines ultrasound energy and radiofrequency to treat cosmetic issues. The presence of ultrasound makes the radiofrequency energy of the device to heat up tissues easier and quicker, for better results.
This device is the first of its kind and presently, is the only one available in the market. Its combination of ultrasound and radiofrequency energy makes the procedure safe, much better and more comfortable than the usual Exilis procedure.
How Does BTL Exilis Work?
BTL Exilis works by using ultrasound energy to penetrate into the deep layers of the skin. t the deep level, the energy causes the collagen in the skin to shrink, making room for more to be produced.
This leads to a rapid increase in the rate of collagen production. This, in turn, causes the skin to tighten faster and look much smoother than before. Plus, the skin does not feel the heat of the energy used because of the cooling process.
What Is the Difference between Exilis and Ultherapy?
Exilis is a skin tightening procedure that employs radiofrequency and ultrasound energies and goes into deep skin layers. It works at reducing fat, contouring the body, tightening loose or saggy skin and giving the skin a generally firmer appearance.

Ultherapy is a procedure that employs just ultrasound energy to boost the production of elastin and collagen. It uses focused and intense ultrasound heat to treat specific areas at a time. And it does not go down into deep layers of the skin as Exilis does.