The uneasiness and irritation experienced with coarse hairs, ingrown hairs and dark shadows in the underarm have been an issue many persons have sought solutions for. Grooming your underarms can be a hassle sometimes. However, adopting great techniques will yield better results. Here's how to get to smooth armpit skin either temporarily or for good.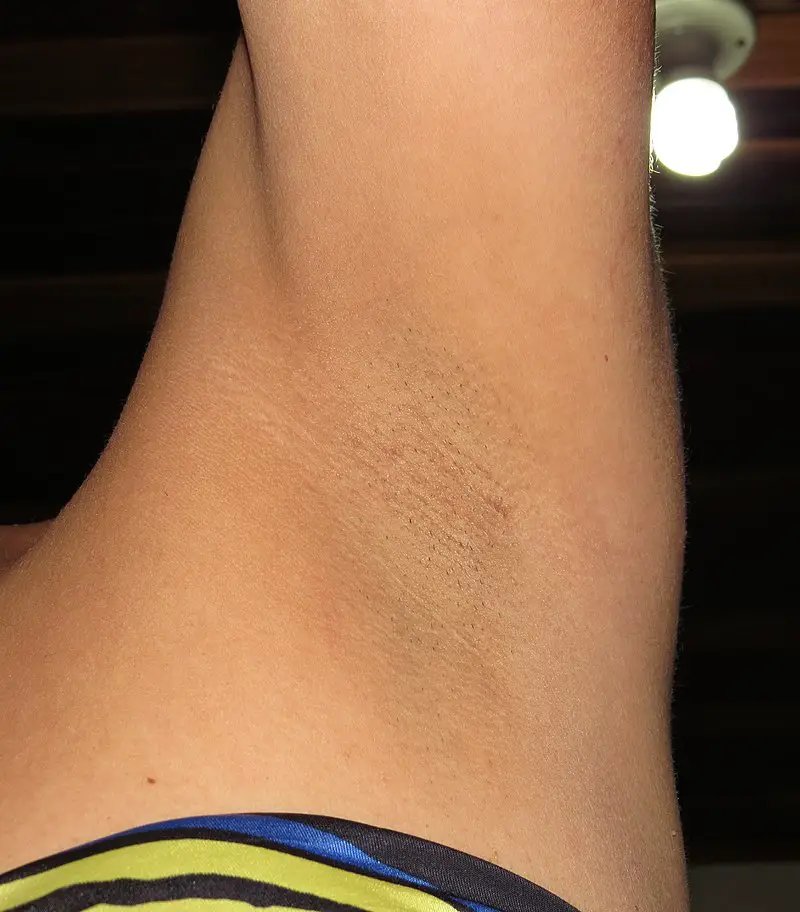 How to Get Smooth Armpit Skin – Do-it-yourself Methods Without Shaving
Shaving usually causes ingrown hair and irritation of the skin. Even though the result of a clean shave only lasts a day or two, research shows that a lot of persons are still doing it.
However, if you are one of those looking for a better alternative, then you are in luck. We have carefully researched 3 easy do-it-yourself methods that will give you smooth armpit skin.
Using Sugar and Lemon Juice
Sugar and lemon juice can be used to combat unwanted hair in the armpit. Mixing both ingredients to form a paste-like substance and then applying it will get rid of hair in your underarms for up to a month.
Due to the fact that lemon is mildly acidic in nature, it possesses bleaching properties, which gives you a light-colored hair while preventing hair growth.
Using Egg-white and Cornstarch
Combining egg white (albumen) and cornstarch can be very effective in smoothening your armpit skin. To do this, follow the steps below:
i. Crack open an egg, then pour the liquid into a cup and discard the yolk.
ii. Add half a tablespoon of cornstarch and 1 tablespoon of sugar,then stir thoroughly until they form a paste-like substance.
iii. Apply it on your underarm skin.
iv. Allow it to dry by sitting in a position that will permit the entrance of air.
v. Once it is dried, take it off.
By simply following the aforementioned steps, you can say goodbye to the days of hairy underarms.
Using Milk and Turmeric Powder
Another way to get a smooth underarm skin is to apply a mixture of milk and turmeric powder. Here's how to go about it…
i. Mix 3 teaspoons of turmeric powder and a teaspoon of milk until they form a paste.
ii. Rub the paste in the hairy region.
iii. Leave for about 30 minutes to dry.
iv. Wash it off with some warm water.
v. Repeat the process frequently for a lasting effect.
How to Get Smooth Armpit Skin? – Permanent Hair Removal
Although the do-it-yourself methods are terrific, you must repeat them regularly to uphold their results. Thankfully, there is a way to remove underarm hairs for good.This process is called electrical epilation. It involves using a small needle to destroy hair cavities from their roots.
This method can also get rid of gray hair and ingrown hair,making it suitable for even the elderly ones.
Even though this process is quite painful, pricey, and time-consuming, it is the only way to remove underarm hair permanently. To learn more about this procedure check out this article.
Video: A Quick Look at the Electrical Epilation Procedure
If you want to have an idea on how the electrical epilation procedure for removing hair permanently is carried out, check out this video…
How to Get Smooth Armpit Skin? – Hair Removal Lotions
Depending on the condition of your underarm after shaving, several hair removal lotions are available to choose from.
If you have an underarm condition known as perma-shadow, then you can use a hair removal lotion to make the shadows undetectable. Perma-shadow makes the color of your underarm darker than other parts of the body. It is caused by the presence of rough stubble underneath the skin surface.
Also, if you are tired of the incessant breakout of ingrown hair, which results in inflammation, then exfoliate your skin using a gentle body scrub. This will takeaway keratin that has accumulated around the follicles of your hair. To learn more about skin lotions in general, see.
What We Have to Say
There are several ways to get a smooth armpit skin,but only electrical epilation will stand the test of time. If you can withstand the stress and pain, then go for it.
However, other painless,cheap and easy methods are available, just in case you can't afford the procedure.