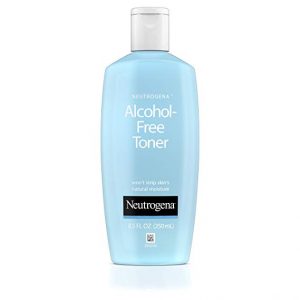 A toner is a wash or lotion that cleanses and closes up pores, giving your skin a smooth look.
As a wash, it looks thin and watery. Its main purpose is to restore the skin's natural balance.
When a toner comes in the form of a lotion, it is usually alcohol free. It is very good as a skin hydrating formula.
A toner is used usually at the end of skin cleansing routine. This means that you use your toner after you have washed your skin.  With consistent use, it enhances appearance to leave your skin always looking 'spa' standard.
Categories of Toners
Before you go to buy this important skin care product, you need to know that there are different types of toners. Each one is formulated in its own unique way to ensure more effectiveness.
Skin Tonics
These types of toners are strong, and contain about 18% alcohol, humectant ingredients and water. Skin tonics are well tolerated by every skin type; oily, normal and combination. They usually cleanse deep into the skin. Water from Orange flower is a type of tonic toner.
Skin Bracers or Fresheners
These mild toners are gentle on skin and the humectant content work on the outer layers to ensure skin stays moisturized all day. Skin fresheners contain little alcohol and glycerin.
Skin bracers are good if skin feels dehydrated, tight from dryness or generally dull in appearance. You may want to use sparingly or not at all since the skin tends toward being sensitive. The reason is it contains fragrance, which sometimes gives sensitive skin a burning feeling.
It is great for normal skin. Rosewater is a nice type of skin freshener.
Astringents
The alcohol content in astringents can get up to 59%, making it the strongest of all types of toners. It usually also contains humectants, water and some antiseptic ingredients which can easily cause skin irritation. With long term use, astringents can lead to skin damage because they clean out lipids the skin needs to protect itself.
Ingredients such as menthol, witch hazel and alcohol are examples of astringents. 
Two Key Factors to Consider Before Choosing Your Toner
If you are intending to go out and buy a skin toner soon, you need to keep in mind these two important factors:
For the skin toner to be effective, it must work with the type of your skin.
Skin toners work more effectively when they contain certain ingredients.
Certain ingredients in toners work well with every skin type. They penetrate into the inner layers of the skin to enhance the skin's natural pH balance. This naturally promotes healthy and clear skin that looks and feels great.
Let us take a look at the different skin types and the best ingredients for each one:
1. Oily To Combination Skin
If your skin is oily to combination, you ought to be careful what toner you choose. This is because you don't want to dry the skin in the area that's oily. This strips it of the ability to renew its cells and stay healthy.
In making the choice of a toner, you need to ensure it doesn't irritate your skin's surface, which can make the condition worse. Also your toner shouldn't dry your skin out too much. It will force it to produce too much oil in order to try and find its natural balance.
A good toner should assist the skin to repair and reproduce its cells in a natural manner.
That's not all. Ensure you use a toner which's tonic or astringent.
Also look out for a toner which exfoliates. A good exfoliating toner should contain salicylic acid or glycolic acid. In addition it should also have amino acids. These ingredients remove any unwanted skin from the surface and leave you with healthy and clean skin.
If you notice your skin is oiler on your forehead, chin and nose but feels dryer around the jaws and cheekbones then you have combination skin type.
Look out for a toner which can help maintain the natural balance for both skin types on your face.
In addition to those mentioned above, watch out for these ingredients when you choose a toner:
Aloe Vera is a good natural moisturizer that won't leave your skin feeling greasy, thereby great for oily to combination skin types. The mineral rich gel that comes from aloe can keep your skin's moisture. It also acts as a protective base so make up doesn't dry it out.
That's not all. When aloe is used as part of the aftershave routine, it speeds up the healing process of wounds from shaving.
Gibberellins and auxins found in aloes work as anti-inflammatory ingredients and promote healing. They also facilitate cells growth with little scarring.
In addition to this, aloe soothes skin from itching, inflammation, blistering and redness caused by irritants. When used effectively, aloes can heal eczema, acne and psoriasis.
Furthermore, aloe gets rid of those thin lines that show aging signs. It also firming skin elasticity.
Aloe vera contains Vitamins E and E, beta carotene and antioxidants that help keep skin firm and moisturised all day.
Buying a toner with rose extracts in it is recommended. This is because this ingredient soothes irritated and inflamed skin. It also heals eczema, acne and other dermatology problems.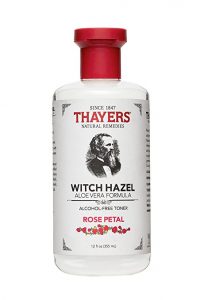 This is not all. Rose is a deep cleanser that penetrates to pull out dirt and impurities soap cannot reach.
Since your skin is sensitive, a toner with chamomile is the one for you. Good for every type of skin, its antibacterial and anti-fungal properties promotes healing. Its also ideal for deep cleansing.
Chamomile reverses the effects of aging on the skin, keeping it younger looking for much longer. It also gives skin a natural even glow.
Cucumbers are soothing in nature, therefore any toner you buy that contains this ingredient will work well against inflammation. As an antioxidant, this ingredient gently and naturally exfoliates, leaving skin looking and feeling amazing.
This chemical is naturally created by the body to reverse early aging signs. As one grows older, its production is reduced. Therefore, if you notice those fine lines appearing, you may want to consider a toner with hyaluronic acid.
It's been proven to reduce age lines for up to ten years.
Your best option may be to buy different toners for each season. Get one for hot weather and another for the winter season. The skin easily produces oils during heat, so go for a toner which is oil free and refreshes with natural soothing ingredients.
During cold weather, a toner which hydrates and moisturises is ideal. Choose one that uses essential oils like jojoba, rose and the others listed above.
2. Oily and Acne-prone Skin Type
Since your skin is oily and you have constant break outs, you should understand that your toner should control the oil. It shouldn't strip your skin of its natural oil or else it will lead to dryness.
Whenever your skin feels very dry, it works to produce more oil, thereby leading to more acne.
Because the skin is acne prone and oily, regular exfoliating is compulsory to keep it on a healthy balance. Your toner should therefore also contain exfoliating properties.
Just as with oily to combination skin, your toner should contain glycolic, amino and salicylic acids. These active exfoliates scrub away dead cells without causing an imbalance in the skin's natural PH. Your skin will be left feeling (and looking) clean, fresh and healthy.
Then look out for these ingredients. They contain astringents and string antibacterial properties to keep skin's PH balanced. They also stop the production of excess oils on the skin:
It tightens the pores on the face as it tones. While doing this, it deep cleanses the skin removing bacteria, dirt and excessive oil.
Witch Hazel works on the skin as an astringent. It is great for combination to oily skin.
This is great for combination skin. It moisturises the areas that are prone to dryness while working gently on the sensitive areas. It also keeps the skin's texture firm and supple.
Green tea is loaded with anti-inflammatory and antioxidants. They help manage redness and any irritation thereby making acne better.
Since your skin is mostly normal, use toners that contain coenzyme Q1 and hyaluronic acid. These ingredients are strong antioxidants that moisturise the skin, leaving it soft and supple.
The ingredients listed above stop bacteria that cause acne from forming. They gently absorb oil and give you a bright complexion.
Astringent properties in the toner you choose will fight blemishes. The plant extracts oil to give skin a smooth clear tone that's well moisturised.
Another thing to consider is pre-cleansing your skin. Because of a lot of build-up of impurities during the day, it is a good idea to wash them away before going through your regular cleansing.
Pre-cleansing cleans deep into the skin, leaving it feeling and looking healthy. Follow it up with a toner.
3. Dry and Aged Looking Skin 
Since your skin feels dry, choose a toner which moisturises and hydrates. Ingredients in a toner like glycolipids, jojoba oil, rose-seed oil and peptides are great for restoring the skin's moisture.
Toners are now are formulated with ingredients that lock in moisture and enhance hydration of the skin without causing further drying.
You must also stay away from toners that contain astringents like witch hazel and menthol. These ingredients rub harshly on the skin, leading to irritating conditions.
Irrespective of the type of skin you have, tough astringents like witch hazel, menthol and alcohol should be avoided when buying your toner.
For sensitive skins, do not use products that have alcohol (such as isopropyl, ethanol, denatured and SD 40), sodium, petrolatum and mineral oil. You can tell if you are reacting negatively to a product. Your skin will turn red, inflame and feel irritated and itchy.
Any of the ingredients mentioned above can lead to this condition.
Products with essential oils that soothes and hydrates should contain the following:
This natural plant moisturizes skin but doesn't leave it with that greasy feel you don't like. It prevents dryness of skin. Its healing properties rejuvenate the skin, renewing its youthfulness.
That's not all, aloe vera is also good for treating any breakouts on the face. Its gel contains gibberellin and auxin, two chemicals that fight inflammation while promoting healing to the skin. Gibberellin stimulates cell growth. Skin grows healthy with little scarring.
In addition to this, aloe vera reduces itching and blistering on the skin, which may be caused by irritation. Its soothing properties also help calm inflammation. Aloe is good for eczema, acne and psoriasis.
Also, aloe vera helps skin restore its elasticity and reduce lines that come with aging. Its leaves contain vitamins E and C and beta carotene. They also contain antioxidants that work to keep skin hydrated and youthful.
This is an anti-inflammatory, anti-fungal and antibacterial extract. It can be a good alternative treatment from active ingredients that may damage the skin. It heals, relieves irritation and soothes the skin from itches.
This ingredient is an antiseptic so great for deep cleansing.
Chamomile is very good for every skin type, including sensitive skin and skin that tends to have break outs. Also, it is a great antibacterial and antifungal antiseptic that heals the skin when used regularly.
Chamomile fights irritants that promote aging to the skin, keeping you younger looking for much longer. This is not all. Chamomile naturally brightens the skin, so therefore enhances the natural glow of your skin while it renews its cells.
Rose is anti-inflammatory and helps soothe skin against irritation, itching and redness. It deep cleanses, getting to the impurities under the skin. Rose can also be used for treating eczema, acne and dermatitis.
Since your skin has begun to mature, soothing aloes moisturise without causing break outs. Vitamin C is also great because it fights free radicals and stops aging.
If your skin is dry do not apply toner with alcohol. This ingredient dries the skin further, giving it an aged and wrinkled appearance.
A great toner for skin dryness is one that contains moisturisers, emollients and glycerin. Essential oils also work great to reduce minimize dryness on the skin. This is because they smoothen and soften the skin's texture.
Algae benefit the skin because it is a great detoxifier and gets rid of the impurities that irritate sensitive skin.
In addition, generally stay away from toners that have fragrance. They have labels like 'refreshers' or 'eau de cologne'.
Benefits of Using a Skin Toner
Enhances and maintains healthy and clear skin.
Restores skin's natural pH balance thereby sustaining skin's health.
During hot months, toners keep the skin cleansed and prevent clogging, sunblock and sweat which can lead to acne. Sweat on the skin increases its ability to produce oil, thereby leading to breakouts.
It is an effective treatment against all forms of acne.
A toner washes away whatever soap and cleaners leave behind. Excess oil beneath the skin, dirt, make up, dead cells and residue from cleansers are all removed by toners. This ensures that clogging which leads to skin disorders is controlled. They also work to stop possible outbreak.
Toners shrink pore spaces and give skin a much smoother and softer appearance. Tightened pores mean less dirt or oil which can get under skin to cause acne, infections or other disorders to the skin.
A toner is usually used all over the body. And it gives the same care as you would expect on your face. Consistent use on neck, shoulders and chest will control break outs and keep away all appearance of aging.
A toner restores the skin's natural balance thereby keeping it moisturised. A skin that's pH balanced naturally blocks out bacteria and germs that harm the skin. Maintaining the natural pH of the skin must be kept in mind because if the body is too acidic, it affects the body's health. It also makes one more prone to diseases.
For better effectiveness and reduced reactions, choose a toner which does not have ingredients that easily irritate.
Tips for Making Your Toner More Effective
Determine the type of skin you have. For every skin type, different ingredients are needed to restore it to its natural pH balance. Match your skin's needs to the ingredients on your toner.
Use toners after washing your skin.
Use your toner daily at night, right before you moisturize. However, if you notice that your skin feels dry, use toner only 3 times a week.
Skin tends to adapt to certain chemicals after some time. Find two different brands of toner that suits you and inter-use them from time to time.
Since your skin tends to dryness and is sensitive, avoid toners that contain fragrance and alcohol. Mild, moisturizing toners with alternatives to active ingredients like alcohol and witch hazel will keep your skin soothed and refreshed.
Keep your toner on. No need to wash it off. Give a few seconds for your skin to absorb it then apply moisturizer.
If you notice your skin roughens easily and is acne prone, cleanse with honey. Pat the honey on skin and wash it off after some minutes. Thoroughly rinse then apply toner.
Do not use any toner with ingredients such as alcohol and astringent. These actives can make skin feel inflamed and tight and irritating.